Discussion Starter
•
#1
•
So I went to Pick N Pull to wander around. The inventory has changed so there wasn't too many cars of interest this time although I am excited that they finally got a few newer cars in! There was a handful of G3s now and two G4s. There were a few newer FoMoCo products like an '01 Focus and a couple of G1 Windstars and at least three '98+ CVPIs.
I wanted to find a couple SHOs, but there were gone (they had them last year). I found a couple of art cars though.
Click for larger version.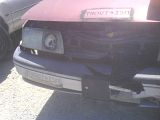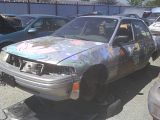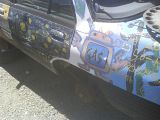 My old Sable was gone
, but I found this car. This is one of the G4s that was on the lot (the other was a white '02 Sable GS). Is it me or does anyone else find almost exact clones of their cars in the junkyard? This car was hit in front. It belonged to a high school kid (parking permit was found on the dash).
It's an early build '03 SEL with tan leather interior and floor shifter (interestingly enough, it had both dual visors and power seat on the passenger side, but no Mach). It has 73k miles on it. There wasn't much left to pick off it. Everything inside was trashed. Someone threw the CV axle into the driver's seat and the boot broke leaving a gooey mess that resembles my toilet after eating curry. And they shoved the transmission (and associated parts) in the trunk leaving a liquid mess there as well. Engine was MIA. :angry:
Is it weird that I think this might be foreshadowing something? I mean I saw a clone of my Sable there before it died and then it ended up there a year later!