Discussion Starter
·
#1
·
Hey all! I'm porting and polishing up my LIM, and the heads are next. The intake manifold is easy, because I'm just cleaning up all the casting flaws (it's disgusting) and making it nice and shiney (leaving it rough where the injector meets airflow). I have no idea what I'm doing with the heads, though. I'm reading up on some of the stuff the ranger guys have done.
Link 1:
http://www.rangerpowersports.com/forum/sho...ad.php?t=146485
Link 2:
http://www.rangerpowersports.com/forum/sho...ad.php?t=138637
According to the OP in the first link, these heads can get pretty decent with the right amount of work. I've heard multiple times that the intake ports on our heads are good for 7k rpm, so to not touch them. But what do I do to the exhaust? There's tons of mismatch between the port and the exhaust manifold, but that's good to alleviate exhaust reversion. I'm new to head work, too, so if somebody can tell me what I'm supposed to be doing, I'd appreciate it.
Also, I wanted to do some combustion chamber (CC) work. I was looking at the picture from the 2nd link, and "Boss 3.0" highlighted all the material between the CC and the gasket. If I took all that out, it would drastically lower compression, which is a bad thing. I took two pictures, one with and one without the gasket, of the heads off my old engine. There's some sharp points coming off the wall surrounding the valves. Is it there for a reason, or should I smooth it off to let the valves move air easier? Also, should I push the material closer to the gasket? There seems to be a couple mm I can cut away around the valves.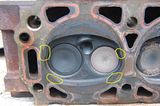 Also, I found stainless valves from SI, and oversize valves from rockauto, but I can't find oversize stainless anywhere. Is it better for 3k-5k rpm power to go stainless or bigger?
-Dan