Discussion Starter
·
#1
·
Well folks, gotta say I'm pretty sad about this :icon_frown:
There's a lot of sentimental value in this car for me. It was my grandmother's first new car, and her last car. She's now passed. This car was also my first car. I spent a lot of time in the back on road trips with the family. It was great to have a first car that wasn't an entire piece in high school.
I also took it to college. Lots of good memories of trips in the Taurus. There was the time I was blasting through snowbanks when there was a honda civic stuck in 1 inch of snow.
However, the car has been failing lately. Horribly. The rust is what killed it. It's unsafe to drive and I don't want to spend the money to get it fixed.
There's small things and big things.. Rotten PS lines, rotten trans lines, rotten cooling lines that leak like crazy, plugged/leaky heater core, needs front balljoints, needs front brakes, frame rot
(frame has one more winter), needs tires, broken rear springs that are rusted to the rear knuckle, needs rear brakes. There's just too much going wrong with this car.
A few months ago, after a big fight with the parents, I finally convinced them that I would NOT finance new and the Taurus was a deathtrap and I wouldn't be driving it until I could afford new. I started looking at vehicles that I knew could go 200,000 miles and it couldn't be rusty.
Requirements
Solid rear axle - Front to back Engine - REAL transmission
Optional
Solid Front axle - Leaf Springs - Real 4x4 - BOF
Ended up getting: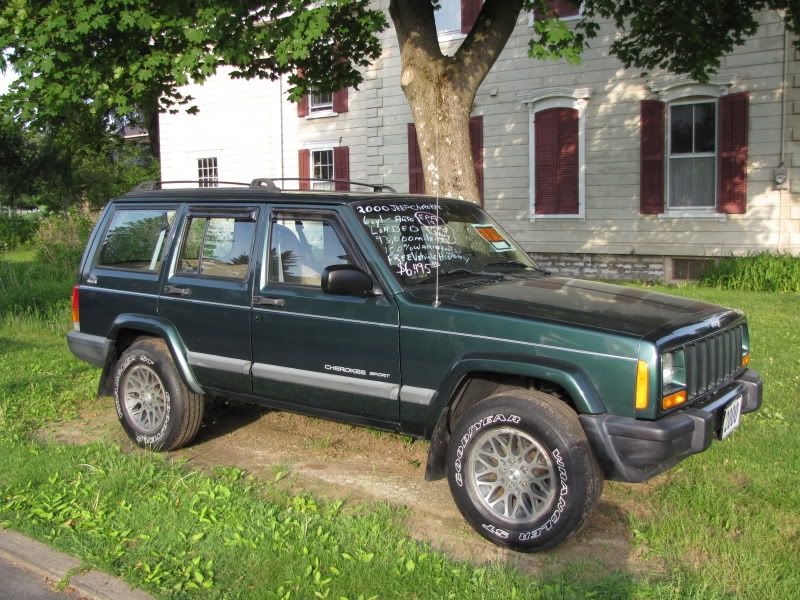 When I test drove it, I fell in love. The 242 has this thing thing called low-end torque and the AW4 transmission shifted quick and firm. No "is it going to shift?" like with the AX4S. There was a bit of shaking, but I got new tires to take care of that. There wasn't any death wobble - trust me, we took it on a pretty good run down a bumpy road and the brakes ... well i mashed them to the floor. It didn't shake and it stopped quick and straight!
I paid less than that and got new tires thrown in. It's still more than what I wanted to pay and what one's worth, but it was over $1000 cheaper than other 2000 XJs with more than 100000 miles. Incidentally it has NO RUST*
*meaning only surface rust. Nothing serious that is going to render it a rust bucket soon.
Had a good run in the Taurus but guess I have to end that chapter.