Discussion Starter
•
#1
•
Hello all --
Again, it is great to see such support for the Taurus!
Here's my story-
My wife was on her way home from the airport last Wednesday, when I get a call that she is at a light and the car has stalled and won't start. Luckily she as just a mile down the street, so I towed it home with the Willys.
The Taurus is a 1993 sedan -- 3.0 Vulcan (pushrod) V-6 with an auto trans. It has over 120,000 miles on it.
"The car just shut off" as she was sitting at the light.
So... I diagnosed that it has plenty of spark ( I have an inline bulb-type testor hooked into one of the spark plug wires) and plenty of fuel pressure, that doesn't fade or anything (installed a fuel pressure gauge on the rail).
The fuel pump/fan relay module was humming/vibrating like crazy, so I replaced it. I figured that was the end of it, but no, it still wouldn't run! Then I figured that mabe my buddy down a NAPA got me the incorrect replacement relay module. Sooo I went into the old one and removed the fuel pump relay from the printed circut board. I then installed a harness & socket that allows for a standard 12V automotive relay. Yes, I was going alittle crazy at this point.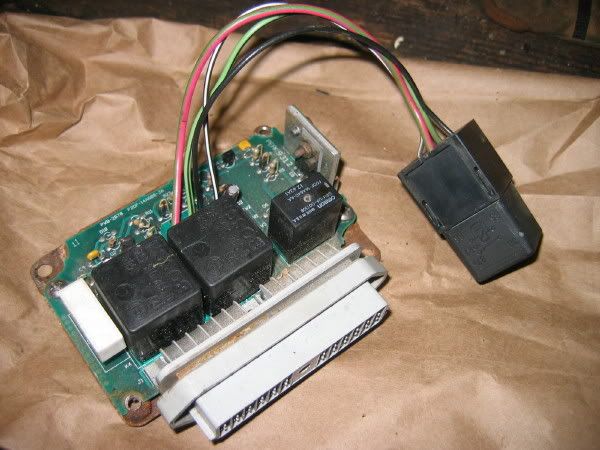 Sooo, what I have been able to accomplish is this: I turn the igntion to run, and the pump runs, I then remove the (butchered-in) fuel pump relay (from the wires/socket that is now sticking out of the module) and then crank the starter (via the ignitoin) and the car will run until it runs out of fuel pressure. if I jam the pump relay back in while it is running, it stalls inmediately. If I hotwire the fuel pump by running it right off the battery (or a battery charger) the computer will not give me spark.
So my diagnosis is that the PCM is giving spark and fuel pressure, but will not fire the injectors. Why??? :angry:
I have and OBD1 reader. These are the codes it has given me. Upon further discussion, research, and head scaratching, it seems it might be one of the sensors/switches int he trransmission that is causing the engine to not run??? If that is the case. Will someone PLEASE explain to me WHO designed this PCM and WHY??? :angryfire:
Sorry -- the codes:
#326, #628, #634, #327, #565, #543
I have a FSM but it does not seem to have these codes or anyway of troubleshooting the PCM. As far as I can tell, this is done in a seperate manual.
Any and all help will be GREATLY appreciated. We need to get this car back on the road!
`