Discussion Starter
•
#1
•
I'm in the process of removing the subframe on my 2005 Duratec, because I have multiple problems that need repair, oil leaks, bad starter ring gear etc. and I'd rather pull the whole engine and transmission out and fix everything at once including overhauling the alternator and A/C compressor, and fixing anything else I find on the way.
Following the factory procedure it says to remove the two nuts at the flex pipe of the catalytic converter and the 'U' bolt at the rear then remove the catalytic convertor. Everything came off just fine until I came to removing the cat, which will not budge. Tried spraying with rust release and leaving it for a few days, no help. Very reluctant to use a hammer as I know how fragile the cat honeycomb is.
So it seems my options are:
1. use an angle grinder and cut a slot along the overlapping pipe, front to back to enable me to get something in to pry the pieces apart. Something like this, but just 1 slot.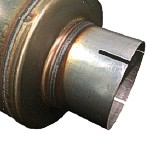 2. Cut it off behind the cat where there is about 4" of straight pipe, and then use a sleeve to join both pieces together again after the subframe goes back in, like this:
Or am I overlooking something obvious?