Discussion Starter
·
#1
·
Recently, an 87 Wagon came up for sale on TCCA, about a couple of hours up the road from me.
As y'all know, I had an 87 Sedan that was the "infamous" Mustang Dash floor shift GL. Unfortunately, due to rusty gas tank, rust in the gas, clogged injectors, hacked up wiring under the hood, hacked up wiring for the "dash mod", as well as, the need for a complete brake overhaul and a complete suspension overhaul to enjoy, I decided to grab what I had replaced on it, and let it go. It also had rust along the bottom of the doors, trunk lid, etc.
So it was sent off to Pull A Part while scrap prices were high. Decided it was time to move along.
-------
This past Sunday, I went up to "Upcountry SC" and picked up my new to me 1987 Ford Taurus GL station wagon, from TCCA member Barkentine. He had owned this car since 1994 and had put on well over 100K miles during his ownership. This vehicle came with:
--Rebuilt trans in the past 60k
--Newer engine added that only had 30k on it, about 50-60k ago.
--Never been in an accident, ever in it's entire existence! Pretty incredible for a nearly 25 year old car!
--No rust in normal places
--Full and complete maintenance records back to the early 90s, as well as loads of documentation.
This wagon, over the sedan, was a runner driver, and made the 100+ mile trek back to Columbia without issue.
This wagon is a bit oddly equipped:
--Manual windows and manual locks
--Light group (maplights, underhood light, footwell light, "lights are on dinger")
--Automatic Parking Brake release (works from P to D only, not P to R).
--Gas cap release
--Powerless seats
--Cruise
--AC
--Rear defogger & wiper
So on to the pics...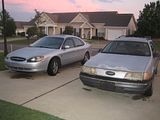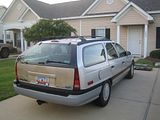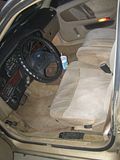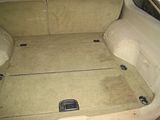 No rust!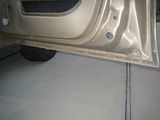 The clearcoat is peeling off the rear, so I'll try to finish it up soon so it looks more or less 1 color.
So what's on tap for this thing (order of importance):
--Shocks in the rear
--Valve cover gaskets
--Steering rack (and lines if needed) (and new outer tie rods)
--Machine rotors (mad steering wheel shake when brakeing)...and if need be do the rubber lines and put new pads/calipers on)
--Front suspension overhaul (struts, springs, mounts, bushings, lower control arms etc)
--New AC compressor & heater core (and evaporator core if needed) (one's locked up, the other is clogged).
And yes, this is equally a lot of work. However, this car is a much better vehicle to bring back to life. There is no hacked up wiring jobs. No rusty crap to deal with. Everything is there and complete. I'll take my time with this stuff too, no rush.
That's enough blabbing/typing from me for now. Just figured I'd post up about it!
And special thanks to TCCA member Mike234 for coming down to Columbia to bring me up to Barentine's place.