Discussion Starter
•
#1
•
I am about to assemble my new struts, and I am trying to figure out what washers are what. I dissassembled some old struts I had to use all of the rubber spring insulators and whatnot, along with the washers if I needed them.
The rear strut mounts came with the mounting bolts for the strut mounts, and two washers for each mount (four total).
New VS. Old
So those would go on top and on bottom of the rear strut mounts...top washer facing down, bottom washer facing up?
Then it comes to the front. I didn't find the cupped washers that go on top of the strut mount facing up. This is all I found...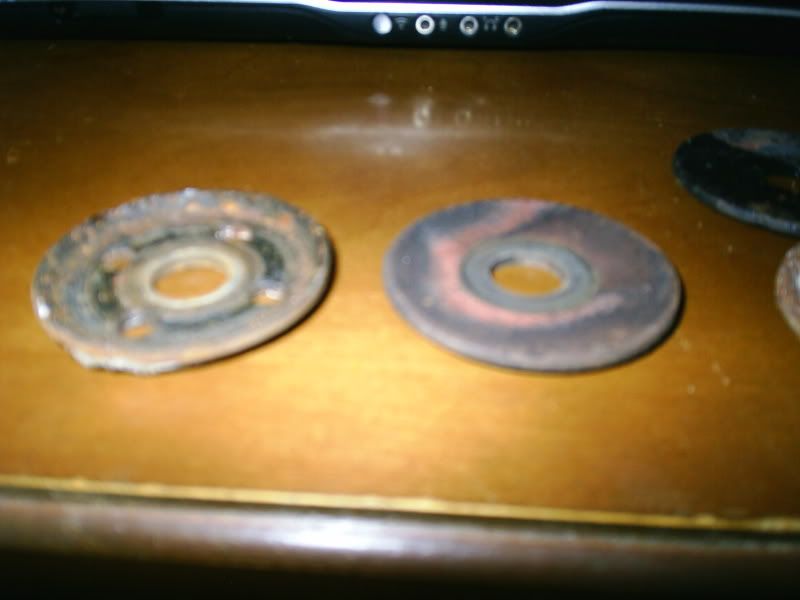 I am quite sure the washers with the four holes go below the strut mount, but the two washers without the holes aren't cupped like the struts currently on my car.
I plan on using the struts currently on the 97' on my '98, so I can't disassemble them for parts, and I don't want to have to pull the struts off of the '98 for parts.
Since I don't seem to have the cupped washers for the top of the front struts, would I be able to pick them up at the parts store, or maybe ford for a reasonable price?
The front strut mounts just came with the mount, bearing, and the bolts to hold it to the car. No washers for up front.