Discussion Starter
•
#1
•
Greetings, all.
With the a/c on the Taurus going out, and the temperatures soaring near 100*F, in Houston, I figured it was about time for a daily driver that had a/c, wasn't afraid of bumps or puddles, or wasn't facing certain transmission doom within the next 20k miles.
To be very clear,
I DID NOT GET RID OF MY TAURUS.
It's sitting comfortably, at my house, and will get to live in the garage now. It will get the a/c replaced at some point, but right now the situation isn't quite as urgent as before.
I have been looking around at trucks for a month or two, planning on buying one near the end of the year. The a/c failure on the Taurus facilitated the purchase of a Truck. I test drove Mark LT's, Lariats, XLT's...but there was something about an FX2 sport that really got my attention. The truck just felt right. I had a "billy badass" feeling when driving it, which I feel when I'm driving the Taurus, but didn't get when driving any of the other trucks.
Here are a couple (crappy) camera phone pictures of her. More pics to come when I get her all cleaned up again. It actually rained in Houston the day after I bought her, so she got dirtied. :mellow:
Heeere's Angela:
Here's what 18,000 miles of air filter use looks like: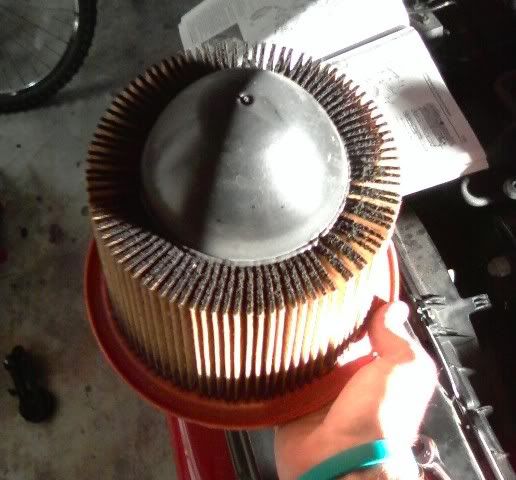 Details:
-2008 F-150 FX2 Sport
-Oxford White
-"Whip me, Spank me" black leather interior, with red sport stitching
-18k miles
-4.6L V8
The mod bug has already struck, and I put an K&N filter in it, and removed the intake silencer. A sub + amp are in the works, and I'm exhaust shopping. Maybe some OEM 20's at some point. Probably when it needs tires. I'm not doing a whole lot to it, since the Taurus has become the official toy, so the car will get all the crazy stuff.
In summary: I freakin love it!!