Member
Join Date: Dec 2010
Location: Rocklin, CA
Posts: 145
Rep Power:
19
You all may be right, but the immediacy of finding I had no cabin heat right after washing the hot engine, when I started up the car before leaving the car wash and letting it idle a few minutes (normally long enough to produce some perceptible cabin heat, but I wouldn't think long enough to warp a head if the belt was slipping, unless I'm wrong), is what made me think this may not have been a coincidence. Since I had no heat within minutes of washing the engine, and the heat came back only when the warped head and the head gaskets were replaced, that's what leads me to think that the warped head was the cause of the loss of heat, and if so, it seems likely to have warped at the car wash, or else I wouldn't have lost cabin heat starting at that moment. Also, I didn't notice any other symptoms typical of a belt slipping so badly that the water pump wasn't moving: no trouble steering the little bit needed to move out of the washing bay, no odd electrical/alternator symptoms, etc.

But if an engine can heat up enough only a few minutes after being started, to warp a head if the belt is slipping and thus the water pump isn't moving sufficiently, then maybe that was it, so I'll give it a 50% chance of being the cause. If so, then the loss of cabin heat for the first few minutes could have been initially caused by the slipping belt, which then caused the overheating that caused the warped head, which then "took over" in causing the continued loss of cabin heat. I've learned in fixing computers for 25 years that interesting chains of events like this can happen, and without enough analysis, can make one assume that there was a single cause for a single problem.

I've driven in the rain many times since then, and I've sometimes popped the hood afterwards to check for rainwater, and I've never found rainwater on the top part of the engine, at the heads.

My Taurus was my Dad's before my Mom gave it to me in 2006, and he took good care of it--he was an aircraft engineer/mechanic in the Air Force from WWII through Vietnam, and ran his own auto repair shop (with his brother) for a while just after WWII. He passed away in 2005, so there was no overlap during which I could ask him to pass along his auto repair knowledge, because the Taurus was my first real car (I'd gotten away without needing a car most of my adult life, with short commutes to work, bicycling, trains, etc.).
---
Last edited by JohnSawyer; 04-08-2013 at

02:40 AM

.
Member
Join Date: Apr 2005
Location: Rialto, CA
Chapter: West Coast
Posts: 198
Rep Power:
30
Damn it!!
I was afraid before now i'm totally scared to wash/clean my engine.. and its filthy dirty.
Today I got all 6 of my COP's replaced and the rear (against the firewall) bank (what's the proper name for that area?) is just disgusting!!! and I got pics
DAMN IT DAMN IT DAMN IT!!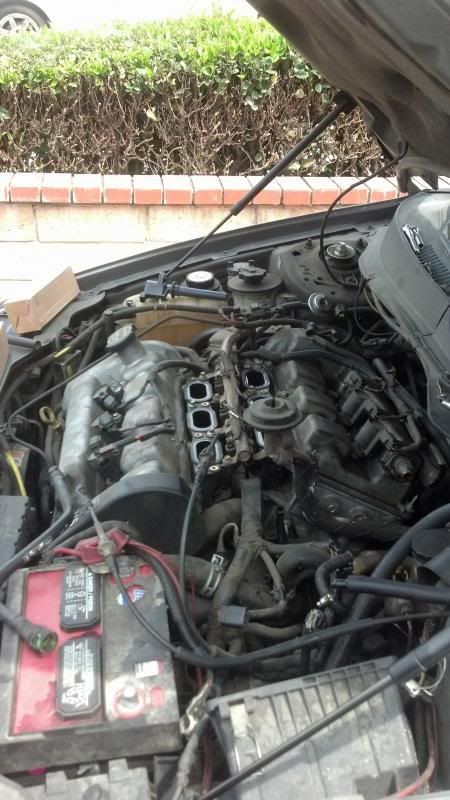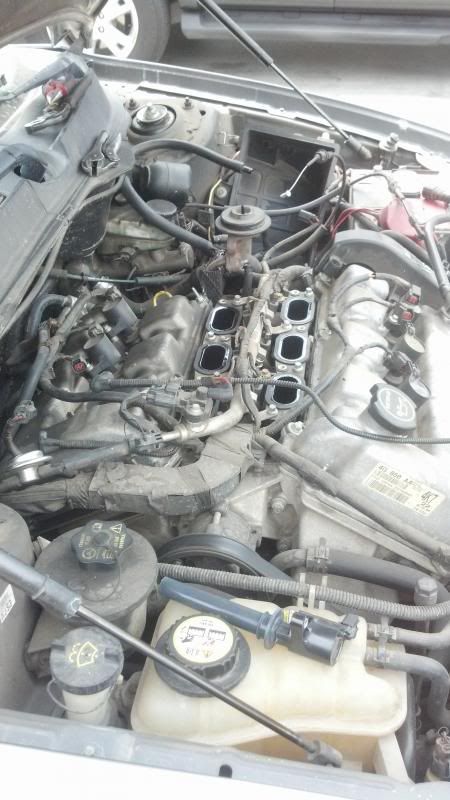 ---
2009 Ford Taurus SEL
2007 Ford Explorer XLT
Devoted Member
Join Date: Aug 2012
Location: Minnesota
Chapter: Northern
Posts: 3,512
Rep Power:
26
I've always cleaned the engines in the cars I've driven without a problem, including my last Vulcan Taurus. I wait until the engine is cool (NOT HOT!!!) and then you take a hose nozzle that can change settings, and I put it on like a shower-type setting (I also don't turn the hose on so the pressure is maxed, I keep it below half pressure). Gently spray the engine off, then I spray cleaner on, let it sit for a few minutes, and gently rinse. I've never had a problem with it before, and I think as long as you stay away from a pressure sprayer you're probably fine. You could also cover up the electrical components with a plastic bag, if you're uncomfortable. I just think that some water is likely to get in there anyway if you're driving in the rain, so as long as you're gentle it should be okay. Obviously you don't want to drench everything in water though.
---

To view links or images in signatures your post count must be 10 or greater. You currently have 0 posts.


David

2004 SEL Comfort ~ Shadow Grey Metallic ~ Mach upgrade with Pioneer speakers in the doors and Kenwood speakers in the rear deck ~ tinted windows ~ amber rear turn signal mod
Member
Join Date: Apr 2005
Location: Rialto, CA
Chapter: West Coast
Posts: 198
Rep Power:
30
I think a group of us need to get together and do this LOL!!
Have one person who has done it and the rest follow
---
2009 Ford Taurus SEL
2007 Ford Explorer XLT
Senior Member
Join Date: Sep 2013
Location: Rochester, NY
Chapter: Northeast
Year: 2010
Model: Ford Taurus
Engine: 3.5L Cyclone V6
Posts: 517
Rep Power:
15
the manual says that you can power wash the engine and gives tips and instructions on how to do so. Even with that said i dont think i will ever power wash the engine! When i bought my car the engine didnt seem too dirty but for some reason there was alot of dirt and grease build up on the frame of the car. I bought one of the engine degreaser sprays from autozone and used that on it and most of it came right up with just a wet rag. After reading this thread though i think i am going to try a toothbrush to get what didnt come off yet off.
Junior Member
Join Date: Mar 2014
Location: Pahrump, NV
Chapter: West Coast
Posts: 65
Rep Power:
11
After reading every post in this thread, I think I'll just leave it dirty and quickly shut the hood after I do maintenance.
Junior Member
Join Date: Feb 2012
Chapter: Northeast
Posts: 13
Rep Power:
0
Quote:
some for of cleaner like armoral or whatever and a tooth brush! seriously, it works perfect.
power wash now you will have electrical corrosion later down the road 1 to 2 years from now. tomk PM ME if you want
---
Last edited by sousa632; 03-30-2014 at

07:19 PM

.
Junior Member
Join Date: Jun 2014
Location: Deal-Where?
Chapter: Northeast
Year: 1994
Model: Ford Taurus
Engine: 3.0L 12v Vulcan V6
Posts: 32
Rep Power:
0
Cleaned Engine Bay - No Problems
---
Cleaned the engine bay with no issues.

Pulled car out, so it was mostly cold. Sprayed P21s Total Auto Wash on everything. Let it sit for 5 minutes, then went around the top parts with a brush to help loosen dirt. Let it sit for another 10-min. Then used the spray nozzle end of the hose on a circular cone shaped spray and rinsed the crud off, spraying from the top not getting down in the spaces. Then started the car - it fired right up. Let it run a bit until steam started coming off the headers. Shut it down and repeated process, making sure to spray the lower parts of the engine this time. Rinsed with the strong single stream jet. Engine fired up right away, no hesitation. Let it run to warm up and dry off a bit. Done.